What would you do if you had more TIME?
Your TIME is the most valuable 'thing' in your life.
Actually, your time IS your life!
We often wish we had more of it because there are so many things to do yet so little opportunity to do them.
One of the things that puts a lot of demand on our time is WORK!
Whether we love it or hate it, work takes up significant portions of our lives.
Don't you wish work could be easier and take less time?
At a young age, I discovered the power of computers and I just fell in love with them. I saw the difference between working with and without computers. I loved their ability to make life easier by saving time and energy through automation of tasks.
In my career, have seen formerly overworked and unhappy employees celebrate their new found free time after their company started computerized their operations. Since then I do almost everything I can on computers; be it communicating, calculating, or remembering things.
As a result I have spent a lot of my time in front of computers, mostly building various systems and having fun.
Computers are great fun too.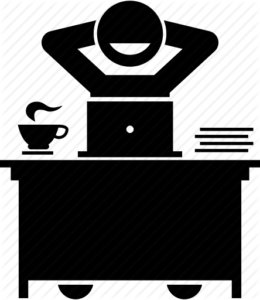 Today, regular smartphones and tablets have as much or more computing power than some of the best personal computers 15 years ago, and the best part is their mobility. Additionally, with rapid spread of affordable internet, the power of computers can be enjoyed at your convenience wherever you want to work from.
That is why we have built systems that can be accessed through such devices and still have all the functionality you would have on a desktop or laptop.
Business is one of the areas that could benefit the most from the use of Information Technology.
Imagine having to prepare and send invoices of a million customers by hand every single month. It would literally take up all your time or would require many extra workers to be hired which could be expensive!
Now imagine using a well designed computerized system to do the same. It could take just an hour to do the same task! The time and effort saved is phenomenon.
It is no wonder that big and successful businesses use computerized systems in the core of their processes.
More and more people today are seeing the benefits of information technology …
… and we would like to support this adoption by using our deep understanding of the technology. There are some who are intimidated by the challenge of learning new technical skills involved with I.T., and we understand this pain.
That is why we design systems to be easy to understand and flexible to navigate. We also offer hands-on training on how to get the best out of all our systems.
I can't believe that I have so much free time since I adopted the FORNOW Property Management System! And still I am able to finish all the tasks I was doing before.
Rental Property Management Software
Managing Rental Property is work that has a lot of repetitive and monotonous tasks.
Having a system that can carry this burden for you can greatly increase your happiness by saving you time, money and energy.
Sports League Management Software
Few things can bring people together more effectively than sports. Behind the excitement and the competition is a strong need for organization.
Information of the teams, players, leagues, venues, staff and sponsors need to be captured, stored, processed …
Forex Robots and Indicators
Pips, stoploss, takeprofit, ask, low, bid, high, leverage, volume and close. Just some of the esoteric key words you would need to understand the exciting world of the
foreign exchange market.
Are you one of those brave souls daring enough to try to tame this beast?
Video games: a favourite pass time for many people. You could be one of them.
If so, you are like us.
We love games so much that we make them, and we can make one (or a few) for you!